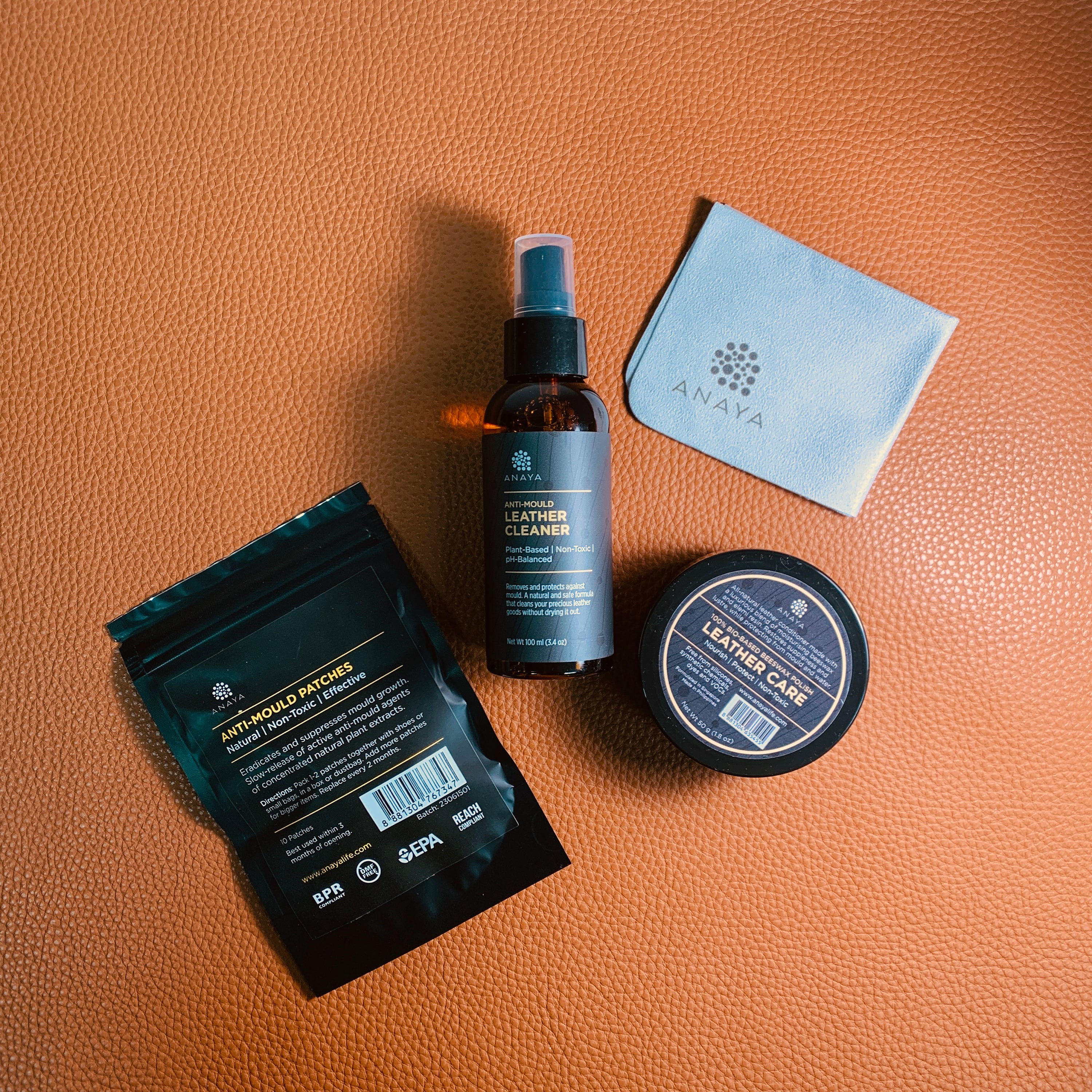 Anti-Mould Leather Care Kit
$27.00
Regular price
$30.00
Introducing our innovative Anaya Anti-Mould Leather Care Kit, meticulously crafted to ensure the utmost care and protection for your cherished leather belongings. Mindfully formulated with natural ingredients, this kit not only ensures the longevity of your precious leather items but also prioritizes your overall well-being. This kit is designed to safeguard the longevity of your leather items while providing you with a hassle-free and holistic solution to combat the challenges posed by our hot and humid climate.

Unlock the following benefits with our full Anaya Anti-Mould Leather Care kit:

1. Anti-Moutd Leather Cleaner: This ensures a thorough yet gentle cleansing process that effectively removes dirt and grime, without compromising the integrity of your leather possessions. A formulation of safe, natural ingredients carefully balanced at the right pH.

2. Leather Care: Experience the rejuvenating touch of our all-natural leather conditioner. This luxurious blend effortlessly absorbs into your leather items, infusing them with vital nutrients and moisture to retain its supple texture that reflects its enduring beauty.

3. Anti-Mould Patches: An ingenious solution to effortlessly safeguard your leather treasures from the effects of humidity. Simply place these patches within your enclosed spaces, such as shoe boxes, storage areas, or bags, and let them work their magic in preventing the menace of mould.

4. Leather Polishing Cloth (14.5x17.5cm): Crafted to complement your leather care routine.

Discover the ultimate satisfaction of preserving your leather items with our Anti-Mould Leather Care Kit. Elevate your leather care routine and relish in the impeccable quality that your beloved possessions deserve.
Anti-Mould Leather Care Kit

$27.00

Regular price

$30.00